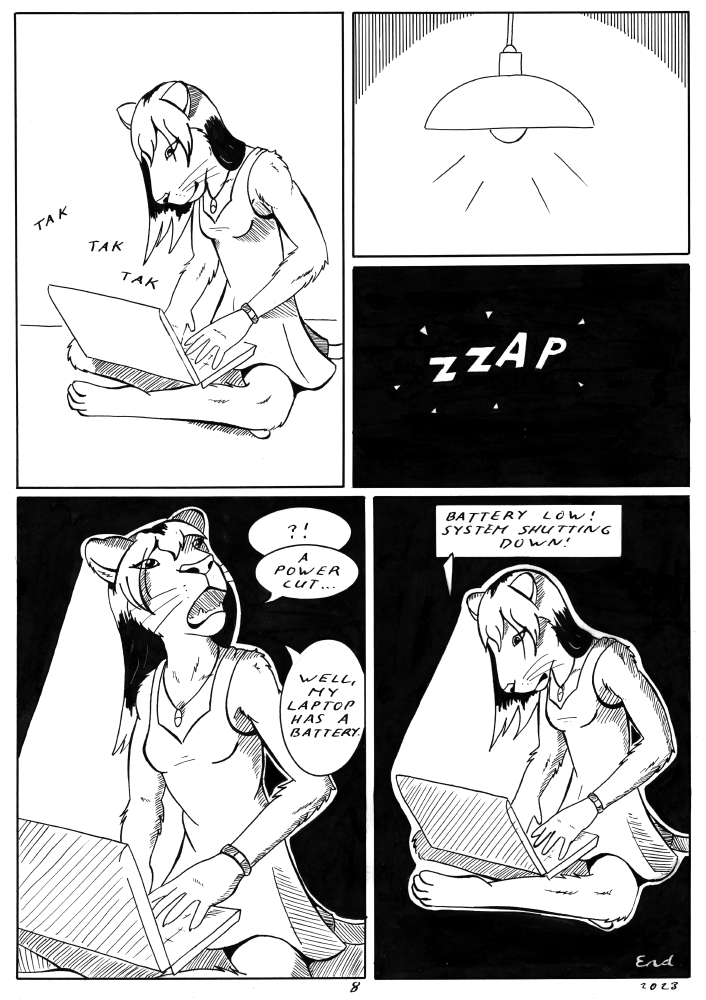 Read the latest page of the furry webcomic Sandra's Day here.
01.02.2023
I just hope that doesn't happen to me, because the battery of my laptop is broken.
31.12.2022
I know, I souldn't make jokes about the climate change, but I have got the idea for this image since a longe time on my PDA.
30.11.2022
I don't know if I should comment or not, but this really fits my collection of spares.
As an Asperger, changes in everyday life are not always easy, that could also be the reason why I am so attached to these old things. For example, I just love the old Amiga, PS one and PS2 games.
31.10.2022
My wife is the only person who can really touch me, with my daughter it feels already uncomfortable... and she squeezes me all the time too!
30.09.2022
Well, I didn't know for a long time that I myself had Asperger's, only after my son was diagnosed. And since Sandra is a part of me, I unknowingly infused Asperger's traits into her.
Don't worry, Sandra's Day is not going to become an Asperger's awareness comic. But I will not refrain from consciously letting this flow into the stories and also making comments about them.
Open a new shop on Etsy with this link and you get 40 listings for free. https://etsy.me/3s1rw3C
31.08.2022
I know I've said this many times, maybe too many times, but my creative thinking is screwed. I've come to the conclusion that there's no point in using brute force to write a story that I'm not happy with in the end. In addition, as an Asperger, I'm probably not really good at writing dialogues.
Sandra's Day should now be what the title describes, slices of Sandra's life. I will write and draw whatever comes to my mind. This can be just one image or multiple pages. Sometimes funny or sometimes thoughtful.
At first I wasn't sure whether I should go back to the old name "a normal life" or not, but I stuck with Sandra's Day.
I hope you will continue to follow Sandra's Day.