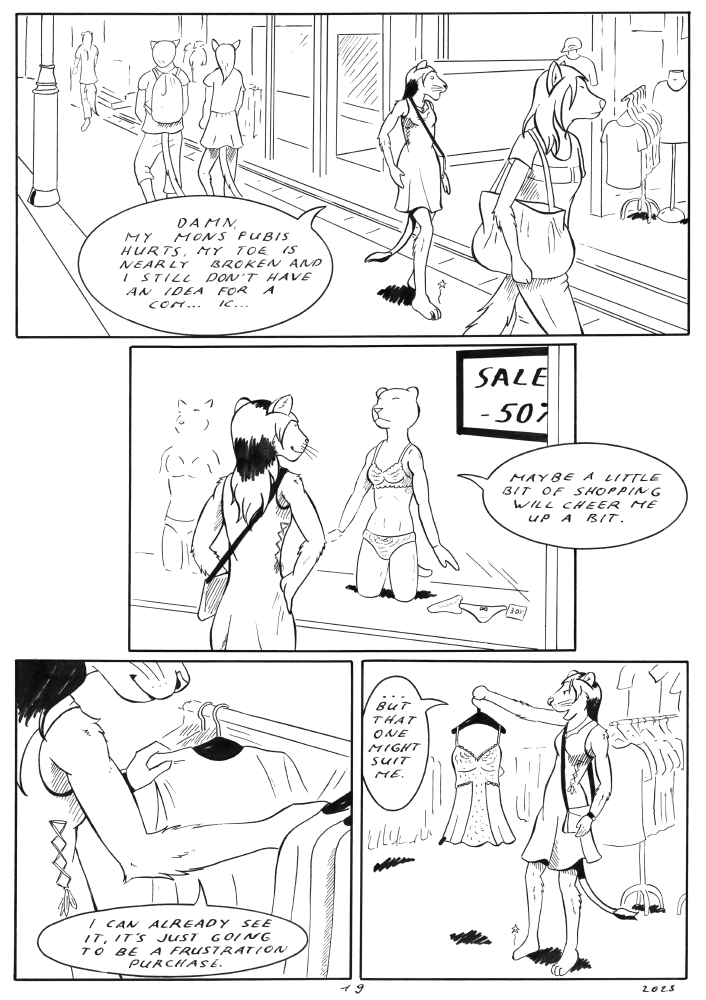 Read the latest page of the furry webcomic Sandra's Day here.
01.10.2023
I think that everyone knows the problem with those frustration purchases. As with me it`s often a new comic, even if my bookshelf is already full.
01.09.2023
I know, this page is lame and probably works better in my Swissgerman thinking brain than in English.
01.08.2023
No, Sandra's behavior is not stupid, because the Roman snail is protected in Switzerland, Germany and Austria. I just liked the idea of ​​Sandra interrupting her thoughts to get the snail to safety.
01.07.2023
Did I summon this? It was cold here for a very long time this year and I had to heat well into the spring.
01.06.2023
What may sound like a joke here actually happened to me. Especially at times like now, when I have to worry about money, I get attached to it. I had a lot of health costs this year. My daughter needs a tooth correction and new glasses. My son has to remove two teeth. After an incident, my wife had some problems with her mind, and I had an infection.
Because I really need some money, I'm selling some original sketches on Ko-Fi.
01.05.2023
If you like to support me, there are two sets of wallpapers on Ko-fi